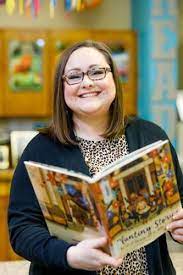 Amanda Jones, 2020 Louisiana School Librarian of the Year, is fighting back against conservative activists. In a highly publicized 2022 public library board meeting Jones delivered a 3 minute speech on censorship. The speech lured out the trolls. Two of those trolls, Michael Lunsford and Ryan Thames, attended the meeting, heard Jones speak, and then went online to misrepresent what she said. After the meeting, Lunsford and Thames falsely reported online that Jones had "promot[ed] pornography and erotica content to kids" and "advocat[ed] teaching anal sex to 11 year olds."
Lunsford, who looks like he might be excited that he just soiled himself and now gets to sit in it, runs the right-wing group, Citizens for a New Louisiana. His personal goal with the organization is to ensure that elected officials 'act with integrity'. A value he has shown to not impose upon himself. If you do click on that link please scroll all the way down to see their "Lead Investigator" and "Surveillance Specialist".
Jones is now seeking an appeal in a defamation suit that she brought against Lunsford, Thames, and Citizens for a New Louisiana. We must stand up to bullies or we will be overrun by them.
Read more about it from SLJ and listen to her short but excellent interview on WBUR.